How do I return an international parcel?
At the moment we don't offer a returns service ourselves, but we've got together with our courier partners below who are delighted to offer Sportsshoes.com customers a range of easy return options and reduced postage rates when returning items back to us.
Please make sure to read the terms and conditions carefully when returning items via third party courier services.

Please note that unless an item is denoted as Free Returns it is your responsibility to return unwanted items to us and to bear the costs of returning them. Sportsshoes.com is not responsible for returned goods lost in transit and it's important to ensure that you return goods on a postal service with adequate insurance should you need to make a claim.
Returns page
How To Return
When you receive your item you have up to 100 days to change your mind and send it back to us.
To proceed past the first step of making your returns label via our portal, you will be required to input your order reference number and shipping postcode. Your order reference number can be located on your paper invoice in your parcel or if not received, the shipping label on the front of your parcel. (This is not the order number received on your order confirmation).
Locate the invoice number on your delivery note. This is located in the top left. It is also on the right-hand side next to the barcode. See the image below.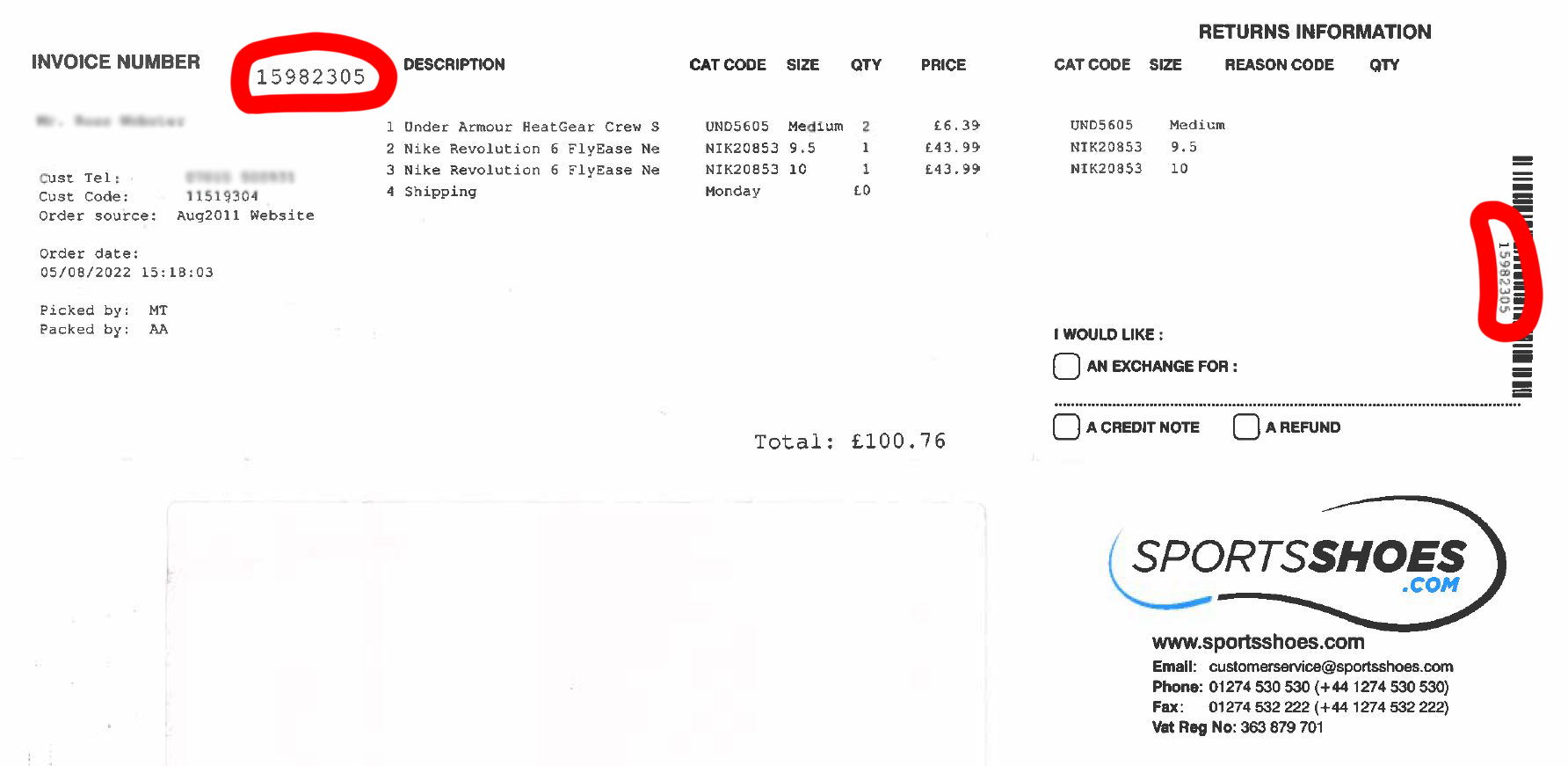 We'll exchange all items which:
Are returned to us within 100 days of receipt.

Are returned to us in perfect condition, with their original packaging and with the labels attached.
ZigZag is offering Sportsshoes.com customer an easy, local return experience. If your item is under 15kg, you can now return online through ZigZag in a few simple steps.
Please pack your parcel up securely, preferably using its original packaging but removing the delivery label.

Include the original delivery note with the reason for return completed.

You'll need access to a printer to obtain a label for your parcel. Please use the label within 5 days.

Please note you can use ZigZag collections for all international parcels, regardless of original courier.
The link to ZigZag can be found below.
https://sportsshoes.returns.international/
Please ensure you obtain sufficient postal insurance in case your item goes missing on its way back to us.
*Returns from EU and rest of the world. Please note that all returned items must be returned on a duty paid service. Any items returned via the duty unpaid option will not be accepted.